Types of Dry Fit Shirts Girls Must Own This Summer for Fusion of Style and Comfort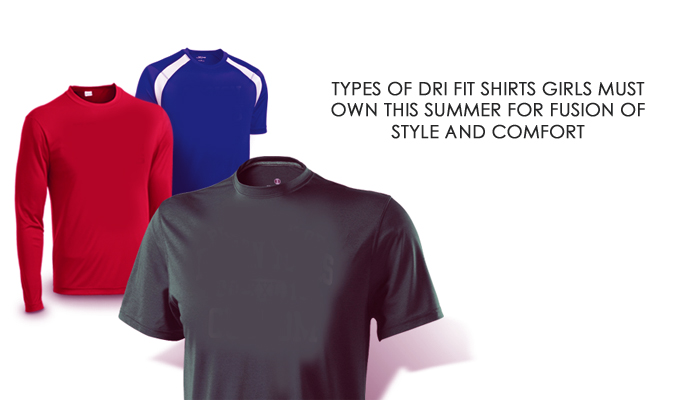 Can you imagine to have amazing fusion of style and comfort for this summer? Summer is probably the only season when getting ready for any occasion feels a tedious task as sweating takes a toll and clothes fail to keep intact your fashion statement. Girls, who love to dress up and are highly fashion forward end up getting perplexed, and hence for their convenience, the leading clothing manufacturers and designers have given way to the dry fit t-shirts. These t-shirts are made up of smooth and soft high quality fabric, using the quick dry technology, which would conform on the aspects of moisture wicking abilities and breathability in summer. Keeping the wearers fresh and dry, these tees add a spin to the wardrobes of the fashionable women, and help them get the perfect fusion of style and comfort.
The high-grade and popular dry fit shirts wholesale companies are crafting a wide new array of tees, in a medley of styles, cuts, designs and colors, fiving way to dashing outfits to suit the variable preferences of the ladies.
We will get you covered with the latest collections of dry fit t-shirts which are available in the retail stores.
The classic Crop Tops
Are you an avid skin show lover? Then it is time to embrace the dry fit crop tops which comes with easy breezy stance, and the 'flaunting your midriff' shenanigans become easier and fashionable. These crop tops come in a wide array of designs and patterns, be it the floral prints or monochromes. Party nights with leather pencil skirts, pool parties with denim shorts or casual strolls with ripped denims, the vintage crop tops are effortless and chic and help you get a number of versatile style quotients.
The Zesty Graphic T-shirts
Why stick to simple color combinations and monochromes in your fashion sense with black tees this summer, when you have the stunning array of graphic dry fit t-shirts at your rescue?  The dry fit graphic t-shirts not only keep you fresh and dry in summers, but also help you get a sensational fashion statement owing to the graphic prints through pictorial representations and stylized texts. From graceful cocktail parties with maxi skirts to the street shopping strolls with denims, these are the perfect jazz up to your wardrobe!
Casual, yet Trendy Tank Tees
The leading manufacturers have got through the craze of the tank tee, which come with racer back style, deep scoop neckline and wide arm holes.  Perfect to be worn with any other outfit and accessories, these tops manufactured through the dry fit technology add to the appeal and can be banked on by women to wear at the gym or for the parties with leather jackets.
Tie-n-dye Bold T-shirts
The tie and dye printing technology is known to all, and being one of the oldest prints, their importance in the global fashion scene is still intact.  Peppy and funky, these t-shirts made of the dry fit technology make them the perfect summer attire, be it for the beach outings or the casual brunch outings. Colorful and ritzy, you cannot say a no to the vibrant and bold vibes they ooze with!
Thus to all the women tee fanatics, with the leading  t-shirts manufacturers  giving way to dry fit ones, you need not worry about dressing up any more, comfortably this summer!