Five Majorly Cool Ways To Style Printed Graphic Tees For Men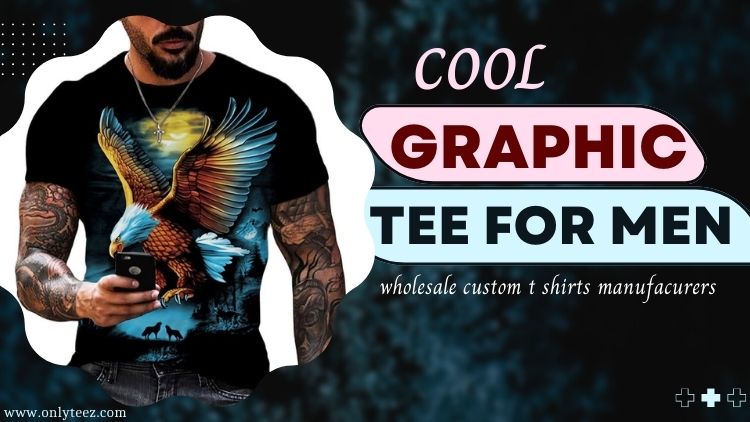 Like the unique appeal of graphic t-shirts? Graphic tees have emerged as the new cool in menswear due to the striking designs, impressions, artwork, and texts printed on them. Want to catch everyone's attention wearing graphic t-shirts? We've listed some of the trendiest ways to wear a graphic t-shirt to amp up your style quotient. If you're a business owner, on the search for graphic t-shirts, do link with a reputed t-shirt manufacturer with an extensive collection of fashionable wholesale graphic t-shirts of superior quality.
1. With Good Old Jeans
The graphic t-shirt looks really dapper when combined with blue jeans. You can pair a soft graphic tee in black, white, grey, red, yellow, blue, or any other eye-catching color that displays innovative patterns or funny words with denim trousers to hit the streets. Finish this uber-cool outfit with sneakers to appear suave and trendy.
2. With Khaki Pants
A graphic t-shirt and beige trousers are a match made in heaven. The vibrant motifs, funky images, and quirky quotes of comfy graphic tees contrast perfectly with khaki bottom wear. We say that you team your red, green, black, white, grey, or any other suiting graphic t-shirt exhibiting fun designs or catchy one-liners with cream-hued trousers to create an edgy look that speaks coolness.
3. With Black Denim
Have a plan to hang out with friends? Then, you can combine eye-grabbing graphic tees in a neutral or bold color that showcases prominent prints and meaningful writing with black jeans and white sneakers to groove up your streetwear. Wear black sunglasses with this casual yet aesthetically appealing outfit to steal glances from the ladies!
4. With Shorts
Want to wear comfortable graphic tees during summer? Then, pair these artistically cool printed tees with trendy shorts and sporty footwear to nail a dynamic and active appearance that will surely level up your fashion meter.
5. With Joggers
Planning to hit the gym or go for a run in a colorful t-shirt? Then, you can select a stylish graphic tee to pair with your athletic joggers and sports shoes to add vibrancy and aesthetic charms to your athleisure outfit.
As a retailer, keen to procure graphic t-shirts, you should collab with a celebrated t-shirt supplier offering a huge catalog of ultra-cool graphic tees, wholesale custom t-shirts, polo t-shirts, running tees, tie-n-dye tees, and more. This t-shirt manufacturing unit will help you customize your wholesale order and upgrade your store's t-shirt stock with fashionably aesthetic graphic t-shirts in bright hues, vivid prints, lively designs, and humorous words to meet the demands of your fashion-crazy customers.
Relevant Blog: Know the Tailor-Approved Styles to Dress a Graphic T Shirt